Catalysing Management Development in Africa: Identifying Areas for Impact -AMI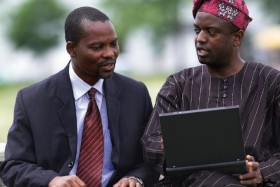 RGUILD
(23)
Africa appears to have reached a turning point. Once dismissed as a hopeless continent beset by war and famine, it is now frequently touted as the next frontier for opportunity and investment. Africa has an abundance of natural wealth and a young and fast-growing population. GDP growth has outpaced many other regions over the last decade, driven in part by rising commodity prices, but also by growing domestic demand and increasingly sophisticated local markets. If the continent is to capitalise on this potential, it will require managers with vision and competence who possess the personal drive, commercial acumen and technical skills necessary to develop successful and healthy institutions. While Africa boasts a few excellent schools of management and some good corporate training initiatives, the overall efforts to develop high quality managers are entirely inadequate to meet the opportunities the next few decades will bring. More young Africans are pursuing higher education, but too often, the quality is low. Organisations across all sectors often struggle to recruit staff with the skill to manage and implement their vision. Too often, organisations fail to mentor and develop young managers. The people interviewed for this report told stories of large multinationals struggling to find local managers they could rely on to establish their brands in new markets, of entrepreneurs battling to build the team to catapult their business to the next stage of growth, of NGO leaders unable to transform communities because they lacked the people to execute their vision, and of investors wondering if their investee companies had the skills to deliver required returns. Each group emphasised different dimensions of the problem, but virtually all cited a lack of management capacity as a serious constraint to growth. As one senior management consultant put it when asked to talk about the challenges his clients faced in establishing and building strong management teams: "We'll be here all day. Can we talk about the challenges they DON'T face?!"
Purpose of this research
The next few decades are critical if the continent is to create the economic and institutional basis for a prosperous future. Equipping a cadre of high-quality managers is essential and urgent. We need organisations to commit to developing managerial talent, and managers to commit to developing themselves. We also need more institutions, of a higher quality, backed by relevant content, to reach more people. This report aims to provide a high-level survey of how management talent in Africa can be strengthened. Chapter
"There is an Africa that you don't hear about very much... this is the Africa that is changing, the Africa of opportunity, the Africa where people want to take charge of their own destinies." — Dr. Ngozi Okonjo-Iweala
Introduction
1 explores why management is important and how it relates to competitiveness and growth. Chapters 2 to 4 draw on desktop research and primary interviews to understand the demand side of the equation in more detail: what does the management gap look like for different types of organisations? What kind of managers do organisations require? What kind of organisational and systemic challenges do we face in addressing this problem? Chapters 5 to 6 then shift to the supply side. We survey the landscape, map the management development ecosystem and identify areas where the gaps are most critical, then examine what has worked well previously, identifying the core characteristics of successful programmes, including different models for scalability and financial sustainability. Chapter 7 presents ideas for impact.
Research Scope and Methodology
This report draws on secondary data from academic literature, and reports from development institutions and online information about existing programmes and institutions. Primary research was also conducted to understand the nature of the management gap in more detail, and to generate ideas for how it can be filled. Over 50 in-depth interviews with individuals were conducted at 40 organisations, including employers, educators, thought leaders, training providers, consultants, investors and entrepreneurs
working mostly in Africa and other emerging markets. A snowball sample was used, with each respondent asked to recommend other potential interviewees. Interviewees have been described according to type of organisation in the text. In all cases,
interviewees were senior executives and/or organisational development and leadership specialists.
About the African management Institute
The African Management Initiative (AMI) is a new and ambitious drive to strengthen management capacity in Africa. Since completing this report, AMI has launched three projects: 1) New business schools: We are developing a guide for potential sponsors and philanthropists on how to start a high-impact African business school, and hope to pilot the first school in 2013; 2) Mass Impact: We are developing lowcost, highly practical short management courses for SMEs and middle managers with a strong emphasis on personal development; and 3) AMI Register: We are launching an online network of African managers committed to the highest standards of performance and responsibility. AMI was founded by the Association of African Business Schools, the Global Business School Network, the Lundin Foundation and The Tony Elumelu Foundation. More details can be found at the AMI website, www.africanmanagers.org.
Download