Book Release: Story of Early Ancient Egypt and Ancient Kush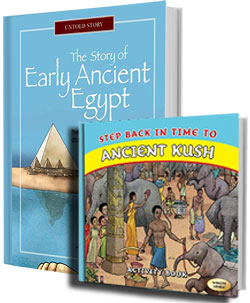 RGUILD
(23)
The Story of Early Ancient Egypt and Step Back in Time to Ancient Kush take children aged 7+ to two ancient Nile valley kingdoms. Both these civilizations were among mankind's earliest and longest lasting. Discover their African roots, great personalities and highest achievements. Both these high-quality resources feature gorgeous illustrations to aid understanding. Concepts are explained simply in a child-friendly way. The activity book contains dot-to-dots, crosswords, spot the difference, word search and more. Learning and fun together!
IDEAL FOR THE SUMMER HOLIDAYS / A GIFT FOR CHILDREN /
This fun, yet educational, history-themed activity book is perfect for the summer holidays. Step Back in Time to Ancient Kush positively engages children with the little-known civilization of ancient Kush (ancient Egypt's neighbor on the Nile, based in today's Sudan).